The villa, which has welcomed viceroys and emperors – from Napoleon to Eugene Beauharnais and Ferdinand I of Austria – is striking for its imposing sobriety and the whiteness of its typically neoclassical architecture; also of note is the gentle sloping lawn studded camellias and azaleas and the plane tree avenues by the lake shores that Liszt was so fond of.
Set on the gentle shores of the Bellagio peninsula, this elegant neoclassical villa was commissioned in 1808 by the Kingdom of Italy's Minister of Justice Francesco Melzi d'Eril (1753-1816). The project was entrusted to the architect Giocondo Albertolli, while the landscaped "English-style" park was designed by architect Luigi Canonica and agronomist Luigi Villoresi, who had previously worked on the park of Villa Reale in Monza. The ten-hectare gardens and twenty-hectare hills reflecting in the waters of the lake adapt to the natural terracing. A great variety of pathways and vedutas connect the building with its central double ramp staircase to the various rooms of the complex. Behind the house is a rustic portico with a rocaillegrotto. A little further are the family chapel-oratory and the orangery-greenhouse – now a museum with Napoleonic relics and collections of antiquities. Further on, there is an imposing terraced greenhouse of the second half of the 19th century and a belvedere-kiosk originally used as a tea room. With its Moorish lines, this structure overlooks the lake opening up towards Gigi Comolli's famous Monument to Dante and Beatrice. Not far from the property entrance, in the direction of Bellagio, you finally reach a small area laid out as an "oriental garden" complemented by an artificial grotto and a small bridge crossing the public road to reach an imitation ruin.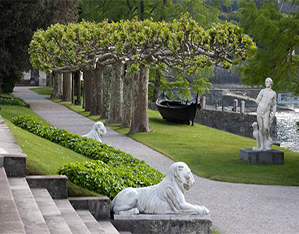 Sculptures in the park
The garden contains numerous commemorative and mythological statues. The stairway leading up to the villa is embellished by four marble lions by Giovanni Battista Comolli. Along the Viale dei platani avenue there are two Egyptian sculptures and other statues from prestigious antique collections.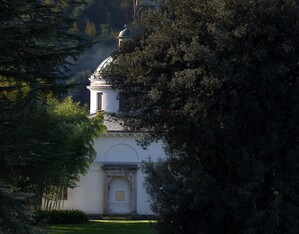 The oratory chapel
Designed by Giocondo Albertolli, this architecture is decorated with fine stucco work and funerary monuments by Giovanni Maria Benzoni, Gigi Comolli and Vincenzo Vela. The outer prospect features the 15th-century portal originally from the old Melzi house in Milan.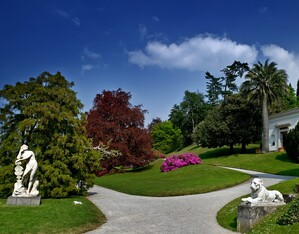 Botanical Heritage
In the garden, majestic century-old trees alternate with exotic rare species. Groves of ancient camellias, rhododendrons and azaleas coexist with impressive specimens of Liriodendron tulipifera, cedars of Lebanon and the Himalayas, Pinus Montezuma, red beeches, camphor trees and Ginkgo biloba.