The impeccable velvets of the meadows, the sinuous paths that descend to the lake, the vegetation shaped by an ancient and skilful hand, with well-tamed plane trees and wisteria and tangles of Ficus pumila: an eclectic garden that has fascinated writers and artists.
Built by Cardinal Angelo Maria Durini between 1787 and 1796, the Villa del Balbianello stands at the end of the Dosso di Lavedo, in a highly suggestive position. The manor house incorporates an ancient convent dedicated to San Giovanni and an oratory of which the two bell towers survive. Other buildings, such as the House of the Guardian, thereIcebox, there Bosco House and the Greenhouse dot its park. Upstream, the Loggia it offers a double view of the banks of the Tremezzina and the Comacina island. Downstream, a small inlet hosts a marina, where the motto "Fay ce que voudras" (do what you want) stands out. From the lake, the steep staircase leading to the villa leads to a panoramic terrace bordered by a stone balustrade. The design of the gardens is based on the natural imprint of the places, adapting to the impervious spaces of the peninsula. Laurel and box hedges impose geometric matrices on lawns set in narrow terraces. Bushes of azaleas and rhododendrons, wisteria and a rich sculptural heritage are distributed along sinuous paths, shaded by large "candelabra" plane trees, holm oaks, camphor, magnolias and cypresses. After Cardinal Durini's death, the villa changed owners several times. Giuseppe Sepolina, Luigi Porro Lambertenghi and then the Marquis Giuseppe Arconati Visconti received numerous politicians and men of culture. Over time, the villa has welcomed the scholars Giuseppe Parini, Silvio Pellico, Giovanni Berchet and Alessandro Manzoni, but also the French Prime Minister Léon Gambetta and the painter Arnold Böcklin. In 1974 the house was purchased by the count and explorer Guido Monzino, who in 1988 left it to the Fondo per l'Ambiente Italiano.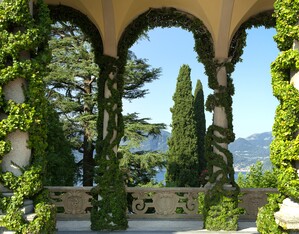 The Loggia
Authentic invention of Balbianello, the Loggia opens onto the landscape through six large arches. Two symmetrical rooms host the Music Room (today "of the cartographer") and the Library, with over four thousand volumes from the Monzino collection, dedicated to mountaineering and polar expeditions.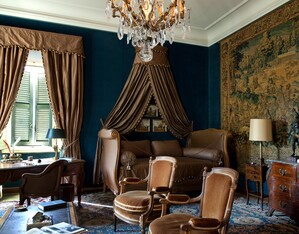 The art collections
Among Baroque furnishings, Flemish tapestries and oriental artifacts, the villa houses an important collection of glass paintings and views of Lake Como. Upstairs the relics of Guido Monzino's businesses are exhibited. Among these is one of the eight sleds with which he reached the North Pole in 1971.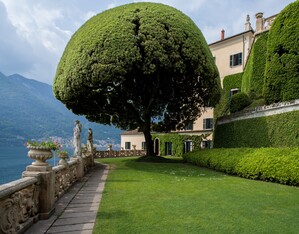 Two villas for a cardinal
The villa owes its name to the small size that distinguishes it from Cardinal Durini's first summer residence: the Villa del Balbiano. With its elliptical entrance, formal gardens and the Nymphaeum, this luxurious residence lies on the banks of Ossuccio, less than two kilometers from the Balbianello.