The refined lines of a small secret garden, arranged to a formal "Italian" template, frames the southern elevation of the villa; the white facades and the accompanying decorative stone elements stand out against the green Friuli countryside, taking us on a journey to a kinder, more harmonious past.
The estate of the de Claricini nobles, run today by the Foundation that bears their name, is located in the small rural village of Bottenicco. The manor house – a style popular in Friuli in the modern age – stands behind a high wall in the very heart of the village. Designed in an old-fashioned style by Count Nicolò, a scholar and art lover who inherited the estate and restored the house and the green area in the late 1910s, the many years of patrician management is evident in the refined formal design of the south-facing garden. In concert with engineer Ernesto de Paciani, Nicolò chose to decorate this part of the property with sculptural ornaments. This process continued after the First World War, all the way through to the late Thirties, staying true to the great tradition of "Italian gardens" much in vogue at that time. Today, the upper floors of the residence look out over the linear arabesques of boxwood and topiary plants facing its facade, alternated with sculptural pillars, statues and fountains set within a concrete balustrade, and a smattering of terracotta vases. On the far side of the balustrade, an English-style park dates back to the same period, featuring a number of tall trees, first among equals an imposing red beech.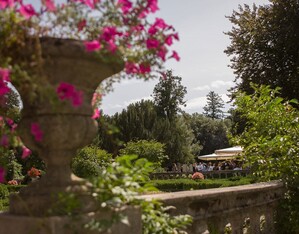 Greenhouse
Erected in the late 19th century by Count Guglielmo, during the winter season this simple structure in the eastern part of the garden housed imposing lemon trees and other valuable species, in vases that bear the Count's coat of arms.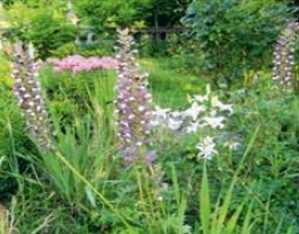 Re-flowering Plants
The flowering plants so dear to Countess Giuditta, the last of the de Claricinis, grow in a contained area near the greenhouse. A scholar of textile arts and a keen collector, she worked to promote the entire complex, raising awareness about her father's efforts for this artistic garden.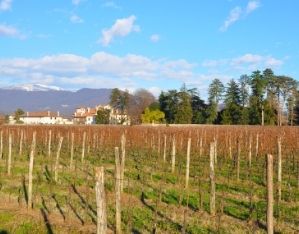 The Farm Estate and its Sought-after Products
The Foundation named after the former owners, set up by Giuditta de Claricini fifty years ago, is located in rustic outbuildings where it produces quality wines and organic products. A variety of events and cultural happenings are held in the large "barchessa" barn, where it is also possible to admire Realist paintings by twentieth-century Friuli painter Guido Tavagnacco.