Enriched by works of contemporary art, a kaleidoscope of thematic gardens unfolds around a neo-Gothic castle where Sissi, Empress Elisabeth of Austria, used to stay, a veritable botanical garden that recreates eighty different climatic habitats.
When they first opened to the public in 2001, these gardens immediately became a big attraction for the varied spectacle of art and nature that they offer. A fascinating trail through different types of garden unfolds on twelve hectares of steep terrain originally used for agricultural purposes, encompassing a height difference of over a hundred metres. The eighty botanical habitats are divided into four major themed areas: "Woods of the World," with American and Asian forests reproduced in miniature; "Sun Gardens," with Mediterranean plants that thrive thanks to their sunny location, including Italy's northernmost olive tree; the "Water and Terraced Gardens," packed with references to historic gardens, from "Italian-style" to Japanese gardens; and the "Landscapes of South Tyrol," with heirloom varieties of local crops. Arid environments have been reconstructed too, with succulent plants and a palm grove, while a pond with water lilies provides a perfect backdrop for spectacular events. The gardens offer attractions all year round thanks to a succession of blooms, works of art and, enriching its appeal, the large roster of events held here. Ten pavilions created by contemporary artists interpret this particular element of garden decor conceived for shelter and rest in a modern way. Each one is dedicated to a different botanical theme.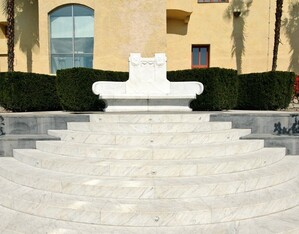 The Terrace and Sissi's Throne
Baron von Deuster, who owned Trauttmansdorff Castle from 1897 to 1921, held a princely party here in 1908 to commemorate the imperial couple's visit. To mark the occasion, he placed a three-metre-long white marble throne with effigies of the emperor and empress in Sissi's favourite spot (she loved to dally in the shade of an old chestnut tree). Today, that throne is on the stately terrace opened up on the south side of the castle in 2005.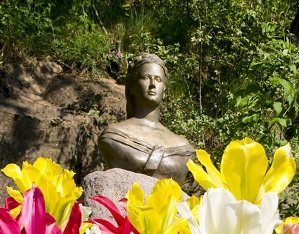 Sissi's Path
Sissi stayed at the castle many times over the years, sometimes to withdraw, devoting herself to looking after her daughter Marie Valerie, who suffered frequent bouts of ill-health. The long walk she loved to take, from the castle to the centre of Merano, is now a popular themed trail accessible to all.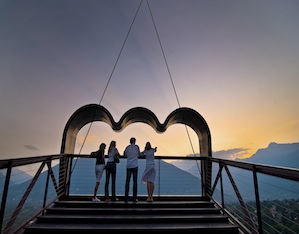 The "Cannocchiale"
One evocative attraction is Matteo Thun's Cannocchiale, an almost entirely transparent platform that gives the sensation of hovering in the air, a kind of 3D binoculars that allows you to sweep over the plain and the basin in which Merano sits, the chain of mountains in the background.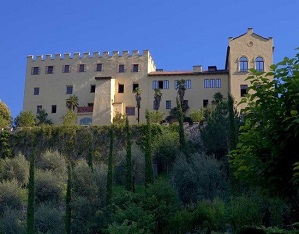 The "Touriseum"
Opened in 2003 inside the castle, in twenty rooms this unique museum chronicles the two-hundred-year history of alpine tourism through mobile scenography, lifelike models, films, audio recordings, reconstructions and memorabilia.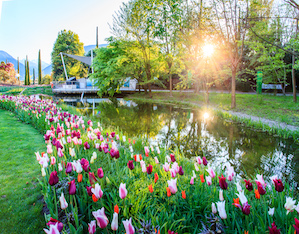 Blooms
Every season offers up its own spectacle, with blooms in the various environments. It all kicks off in spring with tulips and daffodils, followed in May by 300 varieties of rhododendrons and 140 varieties of white, pink and red herbaceous peonies. The spectacle continues with fragrant or perpetual roses and, under the summer sun, the warm colours of sunflowers.