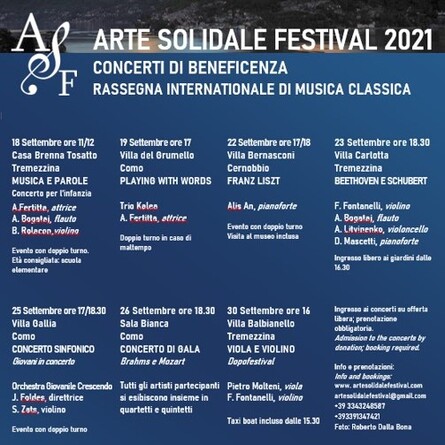 30 September 2021
Villa del Balbianello – FAI
Viola and violin – After the festival
Thursday, September 30 from 4.00 pm to 5.30 pm, at Villa del Balbianello-FAI will be held the benefit concert "Viola and Violin – After the Festival".
The event, with free offer, is part of the Arte Solidale Festival, a charity review of classical music concerts, which takes place every year on the territory of Lake Como.
Pietro Molteni, violist, and Flora Fontanelli, violinist, collaborate for the first time in concert for the after-festival of ASF '21, presenting pieces for solo instrument and for duo. Some pieces by Bach from the Suites will be alternated with works for violin and viola by Mozart, Stamitz and Pleyel.
The entrance to the Villa del Balbianello will be by taxi boat included, starting from 3.30 pm, and the audience will be able to enjoy the lake and the beautiful garden of the Villa for a perfect musical afternoon.
Reservations are required.