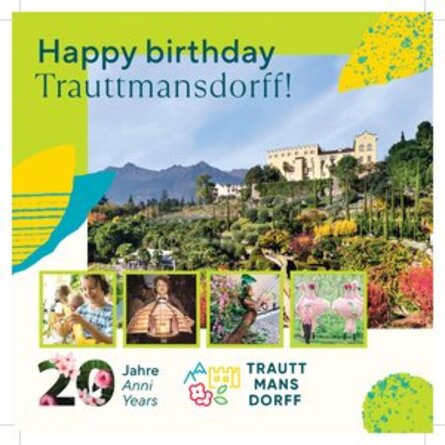 4 September 2021
Giardini di Castel Trauttmansdorff
20th birthday party!
On Saturday, September 4, from 2 pm onwards, the Gardens of Trauttmansdorff Castle will host the"Happy Birthday Trauttmansdorff" event.
To celebrate 20 years of opening the Park, Saturday will be a day of celebration, full of moments of entertainment and learning. The program includes street artists who will perform in a traveling show throughout the area of the Gardens, curiosity about the world of botany, activities for younger visitors, music and entertainment.
For this special occasion, the Gardens and the Touriseum – the museum of tourism inside the Castle – will be open until the end of the day. 10.00 pm, so as to allow the entire area to be explored in the evening thanks to the diffused lighting and to end the celebrations with a cocktails at the Water Lily Pond.
For more information on the program, please see the following link.
Green pass mandatory.