The "Real Parco della Favorita" named after the villa in Ercolano, was built by order of Ferdinand IV of Bourbon between 1799 and 1801, during his forced departure from Naples due to the Parthenopean Revolution. Intended as hunting and pleasure retreat, it still bears the signs of its lavish past and, with its 400 hectares, it can be considered Palermo's green lung.
The French style park designed by the Palermo architect Giuseppe Venanzio Marvuglia originally featured long tree-lined paths bordering woods and clearings with exedras, seats and fountains. Parco della Favorita reached its prime during the nineteenth century, at the beginning of which Marvuglia enlarged a preceding oriental style building creating the "Casina Cinese", a Chinese style architecture designated as a royal residence. Until the end of the century the complex retained its original beauty with its "superb paths […] shady woods […] vast meadows all green and flowering" as stated by a 1882 guidebook. In 1877 the park became state property and in 1935 it was transferred to the Municipality of Palermo. Today it is part of the Monte Pellegrino Nature Reserve which comprises the racecourse, the stadium and other sport structures. Today, the garden's main paths named after mythological figures are mostly walked along as ordinary streets. The gardens of the "Casina Cinese" however remain intact, with an area that was originally set out as an English garden, with irregular paths, a small lake and a tree grove, and a formal Italian flora garden designed by Giuseppe Patricolo with geometric parterres and fountains. Patricolo designed the Gothic revival hunting"torriglioni" towers and the Roman style storehouse, today called "Casa Natura", for the maceration of Sicilian sumac, used in the tanning of leather.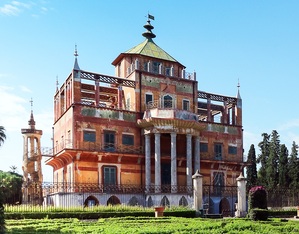 The "Casina Cinese"
This Chinese style building erected by Marvuglia between 1798 and 1802, is the most refined example of eighteenth-century Italian chinoiserie. Its eccentric shapes contrast the park's otherwise prevalent classicism and testify to the adoption of English taste in Bourbon Palermo.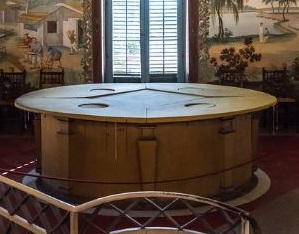 The "tavola matematica"
In the dining room on the mezzanine floor of the "Casina Cinese" there is the famous "tavola matematica" dining table designed by Marvuglia featuring an in-built food-carrying elevator to have food at the table brought to and from the kitchens below. In 1999 the FAI, the Italian National Trust, of Palermo curated its restoration.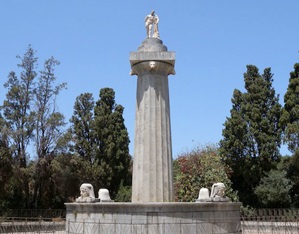 The fountain of Hercules
Placed at the beginning of "Viale d'Ercole" this early nineteenth-century fountain features a tall Doric column crowned by a copy of the Farnese Hercules, a masterpiece of ancient sculpture, once held in Palazzo Farnese in Rome and now in the Archeological Museum of Naples.