Founded by naturalist Clarence Bicknell in 1888 and home to one of Liguria's most invaluable book collections, this quiet oasis of meditation and study, full of exotic plants and over-a-century-old specimens, is immersed in a lush garden in the centre of Bordighera.
In 1878, botany enthusiast Clarence Bicknell moved to Bordighera to dedicate himself to the study of coastal and inland western Liguria. To share his collections and the impressive materials he gathered together during a decade of research, in 1888 he decided to build a museum in Bordighera. He commissioned architects Clarence Tait and Giovenale Gastaldi to come up with a design. In 1913, after Bicknell's death a library was set up to house his collection of texts and archaeological, historical and cultural research focused on Liguria. The library was promoted by British vice-consul Edward Berry and his wife Margaret Serocold. Later, it came under the management of the International Institute of Ligurian Studies. The philanthropic institution is surrounded by wonderful gardens. A short botanical walk features a great many signposts and illustrative "totems", offering info about some of the exotic plants acclimatized to the Riviera, including the Ficus magnolioides, the melaleuca, the Apollonias barbujana(Canary ebony), African palms and South American jacarandas. The front of the building is a feast of exuberant wisteria. The garden also has a stretch of paving stones from the decumanus in the city of Albintimilium(Ventimiglia), and a small monument in honour of its founder.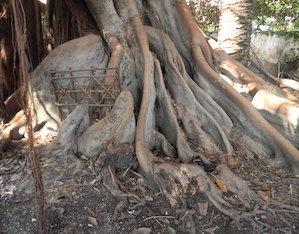 The Plant Giant
The star of this garden is a monumental Ficus macrophylla or magnoliid, near the entrance. Some 21 feet tall and 8½ metres in diameter, it has swallowed up part of the wall and railings. Like the more-than-hundred-year-old wisteria, it merits a place on the list of Italy's "Monumental Trees".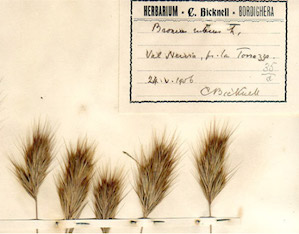 Herbarium
Since 1888, the Bicknell Museum has maintained a herbarium, a precious knowledge resource on the "Flora of Bordighera and San Remo". The herbarium consists of 54 large folders containing more than 13,000 samples collected between 1886 and 1916.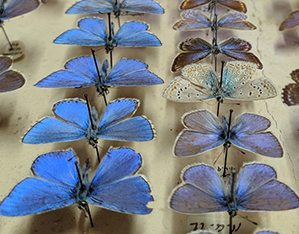 Butterfly Collection
The Museum is home to a unique collection of over 3,000 butterflies, stored as they once were in an English chest of drawers. The collection is divided into two sections. The first section covers particularly valuable exotic specimens from around the world: Ceylon, India, Sierra Leone, North and South America; the second is of local specimens collected towards the end of the 19th century in and around Menton and Bordighera.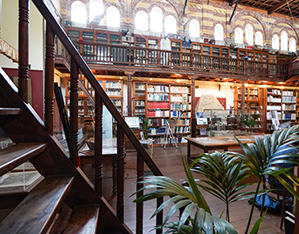 The Old Library
Bicknell's naturalistic library consists of over 300 volumes, many illustrated with precious colour plates, dedicated to Italian and European flora and the study of animal life and ethology; many of the books are adorned with handwritten notes jotted down by the owner.