The king's last present to his wife, Castel Savoia is a turreted mansion surrounded by a vast park featuring an Alpine garden.
Set in the vast park annexed to Villa Savoia, this small 1,000 square-metre Alpine garden (1350 m) has a prevalently decorative function and offers a splendid variety of Alpine and mountain flora. Founded in 1990 and property of the local municipality, it stands apart from other Alpine gardens of the region since it is home to autochthonous plants (some from the Monte Rosa Massif that has been explored since this royal residence was built), as well as to exotic and hybrid species and cultivars selected for their ornamental function. The most fascinating element of this context is the visual and functional interaction with the so-called Castel Savoia, the eclectic villa located in Belvedere, designed by architect Emilio Stramucci. Today property of the Region, its erection started in 1899 to provide a Gressoney accommodation to Queen Margherita who prior to the construction of this mansion used to be guest at Baron Beck-Peccoz's house. The local stone covering of the villa sourced from the Chiappey, Gaby and Vert quarries, blends with the landscape while also providing a natural support in the basement section to some lichens and small climbing plants typical of the flora valley creating a perfectly balanced dialogue between nature and architecture.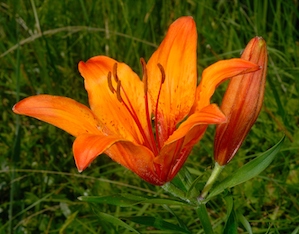 A remarkable variety
In this garden visitors can admire specimen of martagon lily (Lilium martagon), edelweiss (Leontopodium alpinum), globeflowers (Trollius europaeus), alpine columbine (Aquilegia alpina), various evergreens, gentiana (Gentiana sp.) and rosebay willowherb (Epilobium angustifolium) very common along the banks of the Lys.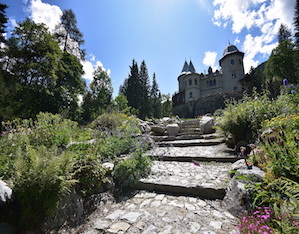 The smaller residences
Two smaller residences immersed in the park vegetation can be reached from the access avenue: Villa Belvedere, which served as guest house, lodgings for the keepers, the servants, and the Royal Carabinieri escort, and Romitaggio Carducci, named after the poet author of several poems celebrating the Queen.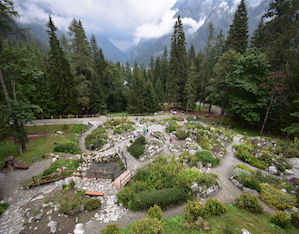 The park
The Alpine garden occupies only a very small portion of the great park part of the property. Besides providing a representative image of an Alpine context it also offers a series of panoramic views on the mountain peaks, in particular Monte Rosa and the Lyskamm glacier.