Venetian villas and their statues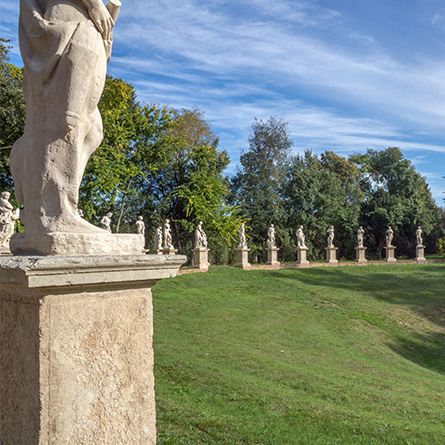 Since the 16th century statues have been a key feature of Venetian gardens.
Since the 16th century statues have been an important element of Venetian gardens. Jacopo Sansovino for instance designed and partially executed the sculptures that embellish his Villa Garzoni at Pontecasale. The same goes for Falconetto at Corte Cornaro and Ammannati in the Mantova Benavides garden in Padua and in the no-longer existent garden of Ca' Gualdo in Vicenza. The presence of sculptural ornamentation replacing the archaeological collections that were common in the gardens of Rome and in a number of Venetian villas (such as the Giusti villa in Verona and the Nichesola villa in Ponton) is a reflection of the iconographic programme that the architectural complex as a whole intended to express, as for instance in the garden of Villa Brenzone at Punta San Vigilio, where modern sculptures combine with antique classical pieces in the composition of single scenes, or in the secret garden of Villa Barbaro in Maser, culminating in the nymphaeum and the grotto. In the I quattro libri dell'architettura (The Four Books of Architecture, 1570) Andrea Palladio expands on the statues used to adorn buildings, while Vincenzo Scamozzi in hisL'idea dell'Architettura Universale (The Idea of a Universal Architecture, 1615) also takes into account those that are more suitable for gardens.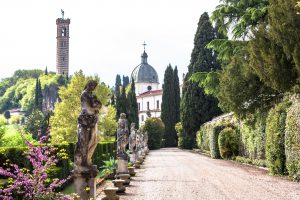 From 1650 onwards, statuary, together with citrus fruits, took on a prominent role thanks to the availability of stone from Costozza and Vicenza. Being soft when first extracted, this particular stone typology is easy to sculpt, becoming very resistant only after some time. Teams of skilled artists – generally associated in large-scale organised workshops such as the famous Marinali workshop active in the Vicenza area and the Bonazza workshop in Padua – passing on their craft and working on standard models that could be adapted to the needs of a specific client (see the Orazio Marinali repertoire album at the Museum of Bassano del Grappa, used repeatedly by the workshop), were able to deliver excellent statues in a very short time. The most sophisticated residences would feature a cohesive indoor and outdoor decorative apparatus, with the villa's pictorial iconography matching the garden sculptures, with similar personifications, allegories and mythological figures. In some cases, the sculptural decoration is a three-dimensional stone rendition of temporary embellishments such as Orazio Marinali's "machina mondiale" at La Deliziosa in Montegaldella or of theatrical representations, echoed by the masks at Villa Deliziosa and at Villa Widmann in Bagnoli di Sopra clearly inspired by Goldoni's plays. The represented subjects, which at first were mainly celebratory, followed the evolution of taste and, from 1750 began reflecting the educational and moralising values connected to Enlightenment, such as the statues of the illustrious Paduans in Prato della Valle in Padua and those of the no longer existent philosophical parterres of Villa Querini in Altichiero and Villa Beregan al Moracchino in Vicenza.
Discover the statuary in the gardens of Veneto