A highly cultivated, vital and joyous historic garden established in the 1880s commissioned by Countess Evelyn van Millingen Pisani, with roses growing profusely in the parterres, playful boxwood patterns, and lawns covered with flowers growing amongst the trees across the vast landscape park. .
For centuries the vast Vescovana estate, with a building probably dating to the 17th century, represented a precious source of income for the prestigious Pisani family, owners of the grand villa of the same name in Stra which had already fallen into disuse due to the downfall of the Republic of Venice. The fate of the estate was improved by Almorò III Pisani's wife, Evelyn van Millingen, a cultured and refined woman, who starting in 1880, provided the house with terraces on the main floor and completely reorganised the garden. In the area near the villa, the countess created a vast fan-shaped formal garden with elaborate parterres, bordered by thick, low boxwood hedges with flowers at the centre, embellished with a lavish sculptural decor with herms, balustrades, obelisks and a cup-shaped fountain. Among the original flowers chosen by Evelyn there were various species of tulips, hyacinths, narcissi, crocuses, irises, lilies, gladioli, following the guidelines of Hortus Floridus (1614) by the Dutch Crispijn van de Passe who had contributed to the spreading of the "tulip mania" across Europe. The marked axial structure of today's garden gradually blends into the natural layout of the surrounding park, home to many centuries-old trees, a rock garden, a theatre, a temple, folly ruins, an ice-house and the 1860 family chapel, an important example of Elizabethan Gothic Revival by architect Pietro Selvatico Estense.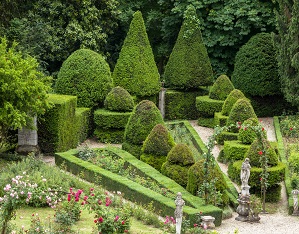 The view from the main hall
The best views of the garden are enjoyed from an elevated position to be able to take in the whole structure centred on the vast regular fan-shaped layout, so unusual for in Veneto, resonating with the Victorian trend of the period and with the passion for botany of Countess Evelina who was born in Constantinople to an English father and a French mother.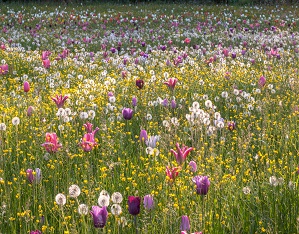 Flowers and colours
Inspired by Evelyn's garden layout, current owner Mariella Bolognesi Scalabrin has reintroduced to the park's vast lawn thousands of bulbs of all species and colours. The April flowering is indeed a wonderful sight, not a far cry from the finest Impressionist paintings.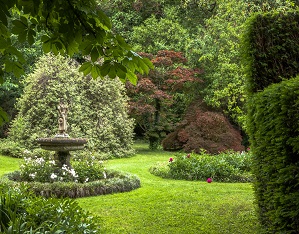 The coexistence of two styles
A visit to Villa Pisani Bolognesi Scalabrin allows the observation of two styles that followed one another in the history of gardening. By the villa, greenery is used to create a formal layout eventually transitioning into a landscape area with the typical presence of large trees growing according to their natural patterns.
GREAT WOMEN, GREAT GARDENS
The daughter of an English father and of a French mother, Countess Evelina enjoyed a cosmopolitan upbringing. In 1853 she married Count Almorò III Pisani, the last descendant of the family that had commissioned the villa at Stra.