The changing centuries have not erased the magic of this garden, which has retained so much of the layout documented in the late 16th century, including a "lunette" by Giusto Utens, preserved at the Casino as at the other Medici Villas.
In 1568, Ferdinando I de' Medici began refurbishing the medieval estate. In the 1580s, garden work was continued by Raffaello di Zanobi di Pagno, who established a "Garden of Dwarf Fruits" by the building and, on the next level down, a "Garden of Flowers", with citrus fruits in tubs and a large fishpond, known as the "nursery"; on the lower level was a "Garden of Fruits", with groves and "circles" of holm oaks delimiting two circular divisions. The Lorraine family commissioned work in the late 18th century and early 19th century, the formal ellipse-shaped solution we see today, with small flower beds towards the top. The lower terrace features a large downwards-sloping parterre divided into flowerbeds planted with dwarf pear trees; further on, elaborately-designed geometric flowerbeds offer a fine example of a 19th-century flower garden. A large avenue of plane trees encloses the southern section lower down. A fountain at the centre of the garden emphasizes the garden's line of symmetry; a staircase leads to the intermediate floor, where a rectangular basin stores water for irrigation. The west side flower garden was rebuilt in the 1990s, reprising a 17th-century predilection for bulbous plants. Up a level on the central staircase, above the "nursery", on the right is a copy of a Tribolo marble fountain with a bronze of Fiorenza or Venus by Giambologna; the original is on show inside the building.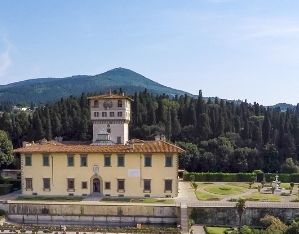 Nineteenth-century Park
The beautiful park towards the rear of the estate dates back to the time of Pietro di Lorena (who in 1818 united the two estates of Castello and Petraia) and gardener Joseph Frietsch. It is a prime example of a Central European landscape approach: paths wending their way through dense vegetation, with remarkable specimens of conifers and broad views over flowering meadows, expanses of spring bulbs, and panoramic views of the surrounding landscape.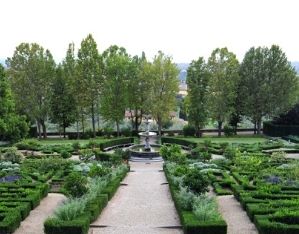 Flower Garden
Recently recreated on the west side, this garden reminds us of the "tulip mania" that was all the rage through Europe in Baroque times. To appreciate the beautiful blooming fritillaries, tulips and "Grand Duke" hyacinths, the best time to visit this garden is in spring.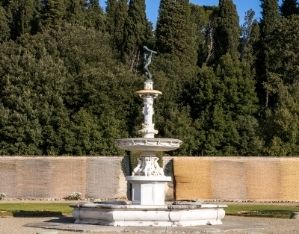 The "Figurine" Level
This garden is situated on the east side of the villa. After the garden at Castello was updated, Tribolo's fountain, which had been at the centre of the labyrinth with the bronze statue of Fiorenza, Giambologna's masterpiece, was moved to Petraia.