The joyful abundance of trimmed boxwood and yew trees, the highly elaborate "broderie parterres", and the splendid monumental facade emerge unexpectedly from the rigorous countryside landscape.
Originally built as a palazzo-fortress for the Dal Verme family, in 1437 the property passed to the Allegri family who in around 1656 had a majestic villa built designed by Giovanni Battista Bianchi, richly embellished with decors and frescoes. Each side of the villa features an additional one-floor volume ending with a dovecote. On the front terracing bordered with a brick parapet lies a parterredecorated with elaborate patterns outlined by centuries-old trimmed boxwood hedges. A fountain marks the centre of the axis crossing the garden and continuing past the gate towards the valley. On the north side, above the parterre, there is a nymphaeum grotto decorated with shells and stalactites built in the thick massive wall offering protection against the cold winds. To the west of the grotto there is an aviary, with a bird-pavilion at the top from which the upper terrace can be reached. At the back of the villa an exedra courtyard opens out with the family church dedicated to San Carlo at its centre, framed by thick rows of evergreen plants; this section ends the long perspective axis that, coming up from the valley, symmetrically divides the garden and the front of the great villa.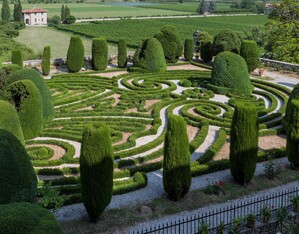 The "parterre"
Villa Allegri Arvedi's parterre is truly unique, due to its complex pattern designed to be viewed from the balcony of the central salon of the villa on the first floor. The French style layout features baroque curves creating one single pattern fanning out with multiple symmetrical coils radiating on both sides of a central fountain.
The grotto
This shady magical cave, is a triple space partly dug into the hill opening out towards the garden. In the shell-decorated cryptoporticus, the stalactites-encrusted niches contain a shell-shaped fountain at the centre, and statues of Hercules and the Hydra and Hercules and Cerberus in the lateral ones.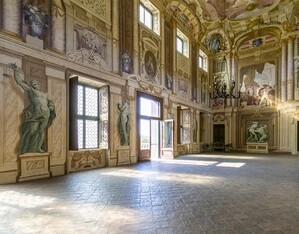 Sala dei Titani (Hall of Titans)
The splendid double hight hall, 20 metres long and 9 metres wide, was frescoed by Ludovico Dorigny in around 1720; the lower section of the decorative apparatus presents allegories of the zodiac signs and the battles of the Giants; the upper section features depictions of the battle of the Centaurs and the Lapiths, Perseus and Medusa, while below some of the windows there are portraits of the Allegri family. The trompe l'oeil effects are the work of Francesco Galli Bibiena.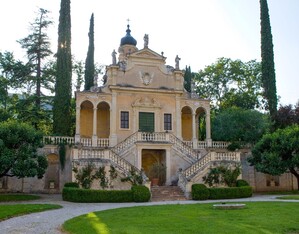 Church of San Carlo
The church facade opens on the exedra courtyard at the back of the villa with a spectacular double flight of horizontal steps leading up to its entrance.