Established by Joseph Bonaparte in a 1807 Decree that drew inspiration from an idea by Ferdinand IV of Bourbon, the garden was completed after the Restoration. The institution's scientific interest goes hand-in-hand with the appeal of its 19th-century hanging garden.
The Garden opened on Via Foria on 18 May 1809. With commendable concision, the founding decree expresses educational, medical, economic and productive end-purposes. The only goals missing, social and recreational, were added a handful of years later following the expropriation of adjacent land, allowing for the creation of a "public promenade" designed by architect Gaspare Maria Paoletti along the terrace-belvedere facing Via Foria, which was dedicated to Queen Carolina. Scientifically laid out by Michele Tenore, who was the garden's director between 1810 and 1860, the garden is the acme of the Neapolitan tradition of scientific research in the form of private or religious "orti dei semplici" medicinal herb gardens. Following a twin-pronged formal morphological and landscaping approach, right from the garden's inception, architect Giuliano de Fazio's design catered to both scientific and museological needs. The first section, close to the entrance, is divided up by a network of straight avenues into sixteen rectangular flowerbeds of botanical collections; the central avenue leads to the neoclassical "Stufa temperata" building, and then continues on as the main route into the next, more landscape-inspired section, an approach that is evident throughout the Garden's connective tissue. In these areas, broken up into sinuous curvilinear flowerbeds, the acclimatization gardens take on a more suitably scenographic arrangement. Today's planimetric layout and use of the garden's various areas is the result of transformations and updates over the last two centuries and more; substantial interventions were necessary to repair damage sustained during the Second World War.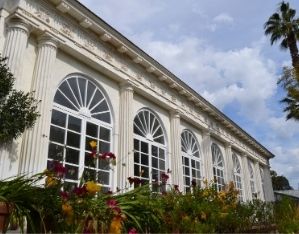 The Hothouses
The long neoclassical building, originally known as the "Stufa temperata" [temperate hothouse], was designed by architect Giuliano de Fazio and built between 1808 and 1820. Built for the acclimatization of exotic species, its elegant facade presents fluted Doric semi-columns alternating with large arched windows; thirty metopes along the top cornice feature botanical representations.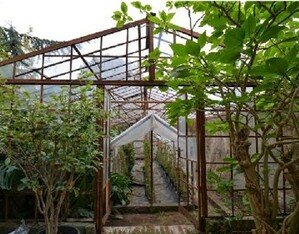 The Calabrese Nursery
In 1864, Francesco Saverio Calabrese opened his "Stabilimento Botanico Industriale" opposite the Garden's entrance, planting in the private gardens of three buildings designed in the late 18th century by Roman architect Pompeo Schiantarelli. Although private, the nursery maintained the fountains and Coffee house of the pre-existing gardens. For over a century, it has served as a botanical garden, combining the sale of plants with experimental work in partnership with the Garden.
The Castle
With its quadrangular plan and two cylindrical towers at the corners of the facade, the building is a pre-existing 17th/18th century construction that was incorporated into the Garden plan, in the area adjacent to the Albergo dei Poveri. As well as serving as its technical and administrative headquarters, it also houses the Museum of Paleobotany and Ethnobotany.