With its impressive botanical collections and rarities, this garden is located on the Mortola coastal promontory, in a landscape of pure Mediterranean beauty. Thomas Hanbury created it in the second half of the 19th century, to pursue his passion for plants.
English gentleman Thomas Hanbury began planting his garden in 1867 with his brother Daniel, a pharmacologist and naturalist, and German gardener and landscape architect Ludwig Winter. The resulting gardens became internationally-famous in the 19th century, when they were visited and appreciated by European monarchs and distinguished botanists alike. Along the way, Sir Thomas enlisted the help of talented scholars, including botanist Alwin Berger, who was curator of the gardens from 1897 to 1914. By Berger's death (1907), the gardens were renowned for their wealth of tropical and subtropical plants, and its scientifically important collections. Between 1907 and 1940, the complex was run by Thomas' son Cecil and daughter-in-law Dorothy. The garden was subsequently abandoned after it suffered grave war damage. In 1960, it was ceded to the Italian State. Since 1983, it has been run by the University of Genoa. In what is a continuous botanical dialogue with the Mediterranean landscape, the site unfolds as a succession of scenes. Collections of rare plants are on a plot that slopes down towards the sea, with plenty of "veduta" views from the "winter terraces"; it also has a perfume garden, and small gardens overhung by a pergola of roses, wisteria and clematis. A small bridge crosses the ancient Via Iulia Augusta just past the "Australian" forest, which in 1883 boasted 60 varieties of eucalyptus tree. An avenue of olive trees descends to the sea from a flat area planted as a citrus grove and exotic fruit orchard. Monumental staircases, buildings and fountains enliven the park's landscape. Evocations abound of the Far East, where Hanbury had spent long periods of his life, including a bronze bell from a Buddhist temple whose "gong" marked the end of the working day.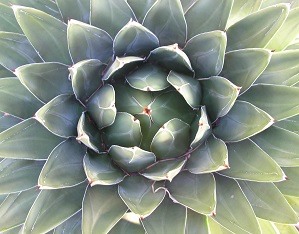 Botanical Collections
After an initial acclimatization of thousands of species from all over the world, the botanical collection has further expanded with particularly renowned citrus groves, an Australian Forest, a collection of succulents that is among the most complete anywhere along the Riviera, a collection of Acacias, sage from arid environments, and its Avenue of Cycads.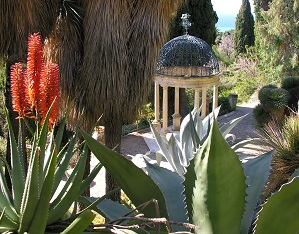 The Decor
The garden is full of small buildings: the "Tempietto delle Quattro Stagioni", the pavilion-belvedere, the "Tempietto del Frantoio", and a Moorish-style mausoleum that Pio Soli designed to house Thomas Hanbury's remains. The garden features a number of fountains: the "Nirvana", "del Drago", "del Fauno" and "della Sirena" fountains, and a cave known as the "Grotta della Schiava".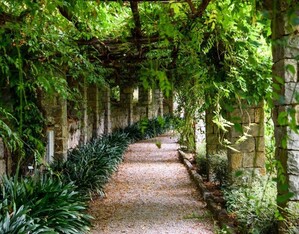 The "Topia"
The staircase below the "Tempietto delle Quattro Stagioni" leads down to the Topia, an ancient pergola that Sir Thomas restored, today completely covered by climbing vines, opposite the portal leading to the Villa, emblazoned with lines from Martial inviting us to enjoy rare things.