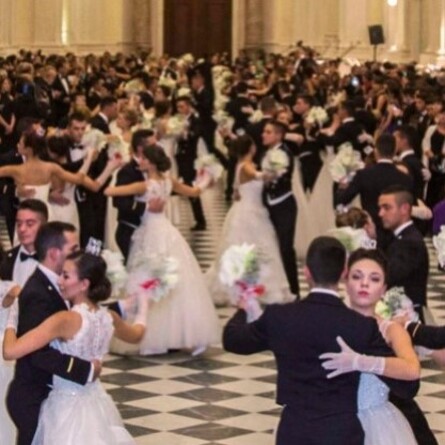 13 November 2021
Reggia di Venaria Reale
Venaria Reale Grand Ball
Saturday, November 13, at the Great Gallery of the Reggia di Venaria, returns the XXVI edition of the Grand Ball of Venaria Reale.
After the forced cancellation, due to the Covid-19 Pandemic, "Vienna sul Lago" returns, the long-awaited event that combines culture, education and solidarity. The XXV edition, held in 2019, consecrated the "Silver Ribbon" to the event, made unique thanks to the consolidated collaboration with the Navy – through the participation of the students of the Naval Academy of Livorno, this year at its 140th anniversary of foundation.
The project returns to focus on the awareness campaign against violence against women.
Hence the adhesion to the initiative "scarpette rosse", through a deep symbolic participation by the young Debutantes, women of tomorrow, who for the evening will wear, under the dresses made by the international designer Carlo Pignatelli, the "scarpette rosse".
Protagonists of the evening thirty debutants and their riders, under the careful direction of the historical choreographer Ida Pezzotti.
The evening will be attended, as every year, by numerous personalities from the world of culture, institutions and entertainment, putting their professionalism and their art at the service of solidarity.
For more information on the evening's program, see the Grand Ball website.