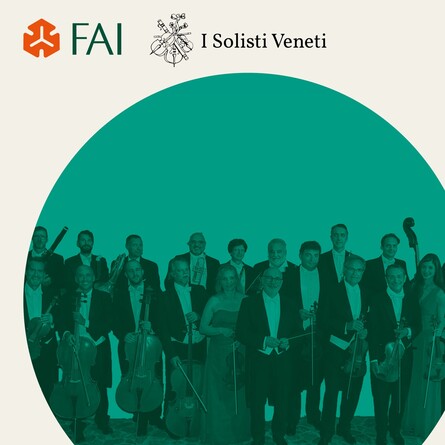 29 July - 1 September 2021
Villa e Collezione Panza – FAI
The Solisti Veneti for FAI
Once again this year the FAI properties are hosting the Solisti Veneti festival, with a calendar of appointments not to be missed.
Conceived and presented for the first time in 2020, this is the youngest concert cycle born from the creative imagination of I Solisti Veneti in collaboration with FAI. Structured as an itinerant festival, the cycle intends to promote an evocative dialogue between music, history and art by presenting programmes that reflect and illuminate the cultural and natural heritage of some of the most beautiful monuments and parks in Italy in a lively, exciting and topical way.
The concert will be held at Villa and Collection Panza, Thursday, July 29 and Wednesday, September 1.
Below is the schedule:
thursday 29 july
I Solisti Veneti conducted by Giuliano Carella. Richard Strauss, from "Capriccio" – Sextet for strings. Arnold Schönberg, "Verklärte Nacht" op. 4 for six strings
Wednesday 1st September
I Solisti Veneti conducted by Giuliano Carella with the participation of Massimo Mercelli, flute Ernest Hoetzl, harpsichord. Music by Antonio VIVALDI, Giuseppe TARTINI, Edvard GRIEG
Reservations are required. In case of rain the concert will take place inside the Villa.