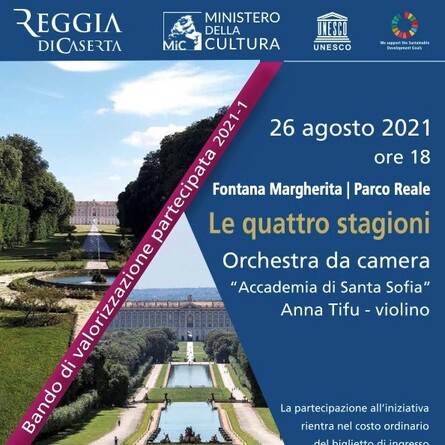 26 August 2021
Reggia di Caserta
The four seasons
Thursday, August 26, from 6.00 pm to 6.45 pm, in Piazzale Ercole overlooking the Fontana Margherita in the Royal Park of the Royal Palace of Caserta, will be held the concert "The four seasons" by theAccademia S. Sofia, in collaboration with the Amici della Reggia and CIDIM, with the extraordinary participation of Anna Tifu on violin.
The notes will accompany visitors to the Green Museum who will be able to enjoy the show in the setting of the fountains and waterfalls of the Royal Park.
TheSt. Sophia Chamber Orchestra consists of:
on violin: Marco Serino Concert master, Alessia Avagliano, Annastella Gibboni, Emauele Procaccini, Anna Chulkina, Alina Taslavan, Alessandra Rigliari
on viola: Francesco Solombrino, Francesco Mariani
cello: Patrizio Serino, Alfredo Pirone
on double bass: Gianluigi Pennino
harpsichord: Debora Capitanio
solo violin: Anna Tifu
Participation in the initiative is included in the ordinary cost of the entrance ticket. Please note that the number of visitors to the Vanvitellian Complex is limited in accordance with the anti Covid 19 measures. The Green Pass certificate must be shown at the entrance. During the concert, from 5.45 pm to 6.45 pm, the shuttle service in the Royal Park will be suspended.