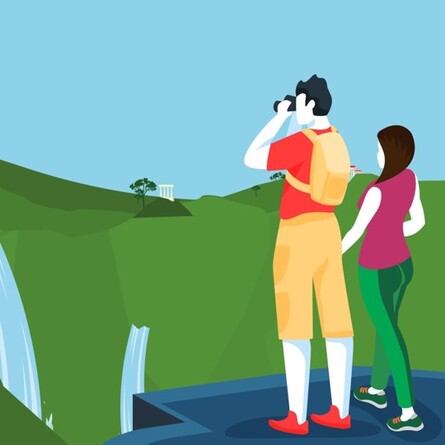 12 September 2021
Parco Villa Gregoriana – FAI
Panorama Day at Villa Gregoriana Park
Sunday, September 12 at the Villa Gregoriana Park – FAI, will be held the Day of the Panorama.
From the project of the romantic garden to the evolution of the park from the nineteenth century to today, a day dedicated to the knowledge of Villa Gregoriana and the landscape that surrounds it. A unique opportunity to enjoy its beautiful views at different times of the day.
Below is the schedule for the day:
Visit with the Director
A special visit to deepen the nineteenth-century construction of the Park with its views, perspectives, jumps in altitude, in a continuous comparison between artificial and natural. A walk to recognize together the limit between the hand of man and the luxuriant nature, from the English theories of the romantic garden on which Villa Gregoriana was built to the process of today's maintenance also linked to climate change.
The Gardener tells
A walk in the garden of Villa Gregoriana accompanied by those who take care of it every day: the gardeners. The visit will be an opportunity to read the evolution of the landscape preserved in the karst gorge of Parco Villa Gregoriana, deepening the themes related to the fragile balance of the Valle dell'Inferno to understand the importance of maintenance and care of the many species that make Villa Gregoriana a unique place of its kind.
The plant society: organisms in connection.
A walk immersed in the historic setting of Villa Gregoriana Park with a look at the plants. Ninety minutes to be enchanted by the beauty of the places and to change the way we see and listen to them, to be amazed by their skills and intelligence; ninety minutes to experience first-hand how a landscape represents itself a cultural identity and, at the same time, an opportunity to protect the environment.
Comparing Landscapes, organised by FAI Ponte tra Culture – Rome Delegation
In collaboration with the FAI Delegation in Rome, FAI Ponte tra Culture is the Trust's proposal in which the historical, artistic, cultural and environmental heritage becomes a tool for encouraging integration between people of different origins living in the same area. During the day it will be possible to take part in visits in 8 different languages to get to know the park and discover its connections with cultures that interact with all of us on a daily basis, reading about the botanical garden of Pope Gregory XVI with an eye to those exotic plants that have made the landscape of this garden unique.